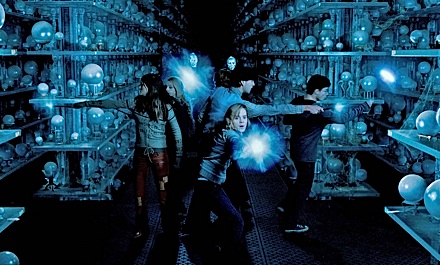 Just got back from seeing HP5 in IMAX 3D. The 3D was quite impressive, especially for the film's climax, though I don't think I would like to watch a whole movie with those glasses on. I was not looking forward to this one as much as I have to past Potter films since the book wasn't one of my very favorites. Of all the books, Order of the Phoenix is the only one I have only read once, and that was 4 years ago. Maybe that played to my advantage, because the movie seemed to hit on most of the highlights I remember. I enjoyed the movie better than the book, and am surprised at how much steam the Potter franchise still has. I don't really want to write a full scale review so I will just point out my pros and cons, but overall, I really enjoyed this Potter. As of today, I would rank the films in this order 3, 5, 4, 2, 1.
Pros:
Umbridge. I hated her just as much as I did when reading the book. And I really hated her stupid cat plates.
Luny Lovegood. I nice new character with some depth.
DA meetings. These really played well.
Score. The music has a bit of a folkish flair that spiced things up.
Final battle. Much better on screen than in the book. Quite intense.
Voldemort. Still one scary dude. I won't be letting my kids watch this movie for many years.
Sirius, Mad-eye, Lupin. It was nice to see these old faces, though they didn't get a lot of screen time.
Weasley Twins. Their departure was fantastic
Cons:


Grawp. Really lame and pointless. And way too big to believe a human and giant could have a baby (Hagrid). Also, bad effects.
Department of Mysteries. Where were all the mysteries? No big brains :(
The prophecy. Just like in the book, all this build up for a big "no duh."
Centaurs. Just like in Sorcerers Stone, so-so CG and kinda pointless.
Neither Good Nor Bad:
Not even a mention of Quiddich. No Weasley is our King.
Dementors had a new look, and they attack by choking with hands!?
Tonks and Kreatcher. Yeah, they were in the movie, but hardly.
Well thats it. I will add more if I think of them.