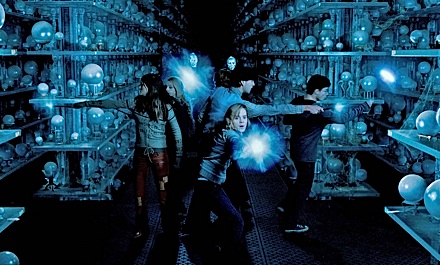 Sectumsempra was cast upon the enemies of wee Harry Potter this weekend as the boy wizard's 5th outing took the weekend crown and propelled the film into blockbuster territory. On top of an impressive opening couple of days Potter bagged another $77 mil over the weekend. All signs point to 2 more huge Potter films coming soon to a theater near you.

The Transformers also held up nicely for a hearty second weekend drivng the film past the $200 million mega mark. It may be a close race between the Potter and the Transies for the 4th place finish this summer. Live Free or Die Hard also eclipsed the $100 million mark, but its total gross so far has been insufficient to keep it on the Summer Top 9 list. Ratatouille also climbed up a couple spots, and hopes to make it to an impressive (though somewhat disappointing for Pixar) $200+ million take.

Next week the Adam Sandler / The fat guy from King of Queens comedy I Now Pronounce you Chuck and Larry opens, as does Hairspray, so our Top 9 may shift positions, but don't expect many new entries to the list for a couple of weeks.

Current Rankings:

#9 Ocean's 13 -
$112,432,000
#8 Fantastic Four: Rise of the Silver Surfer -
$127,144,000
#7 Knocked Up -
$138,194,000

#6 Harry Potter and the Order of the Phoenix -
$140,017,000
#5 Ratatouille -
$143,004,000
#4 Transformers -
$222,990,000
#3 Pirates of the Caribbean: At World's End -
$304,460,000
#2 Shrek the Third -
$317,900,000
#1 Spider-Man 3 -
$335,600,000

My Predictions:
#9 Evan Almighty -
$170,000,000
(51.8%)*
#8 Fantastic Four: Rise of the Silver Surfer -
$175,000,000
(72.6%)*
#7 The Bourne Ultimatum -
$185,000,000
(0.0%)*
#6 Transformers -
$205,000,000
(108.8%)*
#5 Ratatouille -
$260,000,000
(55.0%)*
#4 Harry Potter and the Order of the Phoenix -
$275,000,000
(50.9%)*
#3 Shrek the Third -
$325,000,000
(97.8%)*
#2 Spider-Man 3 -
$380,000,000
(88.3%)*
#1 Pirates of the Caribbean: At World's End -
$395,000,000
(77.1%)*
*Percentages earned relative to my predictions