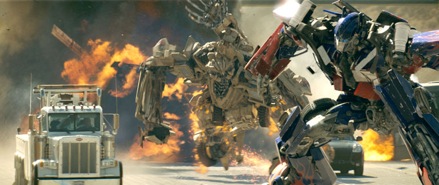 The Transformers movie is here. Its made $36 million in a day and a half including a $27.5 million biggest Tuesday ever.

I caught this movie on Tuesday morning, and thought it was pretty good. It is definitely one of the better cartoon to live action translations out there. There are some great action scenes, especially with Starscream and Blackout. Bumblebee is awesome and Prime is pretty cool too. Also, there are a lot of humans in the movie and surprisingly they are all fairly interesting. Having said that, the big battle sequence was a bit too crowded and it was hard to tell who was fighting who. Also, the Deceptacons have a little gremlin bot that is kinda lame. But overall, an enjoyable experience.

If you have seen the movie, what did you think? How much is this mother gonna make?