This summer has had a lot of 3quels (Spider-Man, Shrek, Pirates, Ocean's, and Bourne), some other assorted sequels (Harry Potter 5, Die Hard 4, Fantastic Four 2) and a couple of good original films (Transformers and Ratatouille). And even though the summer is not over yet, its never too soon to look forward to next summer's big ones. Over the next few days I will post the movies I am looking forward to (in order of release date). Fell free to comment on your most anticipated films as well.

March


10,000 BC - 07 March 2008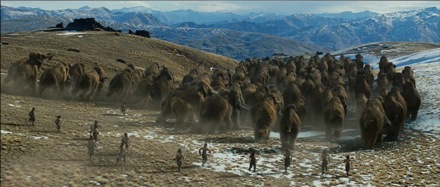 Calling this a live-action Ice Age makes it sound kinda lame, but the trailer makes it look rather good. If you like mammoths and sabreteeth, this could be the film for you.
Horton Hears a Who - 14 March 2008
This cg adaptation of the Seuss favorite looks like it has fun designs. Plus, its got Jim Carrey and Steve Carrell so hopefully its funny.
May


Iron Man - 02 May 2008


Marvel's Studio's first solo effort has so far not missed a beat. This looks to be a serious superhero film that could take a lesser-loved hero and turn him into a superstar. It will have been a few months since we got a comic book film, so us geeks will be hungry.