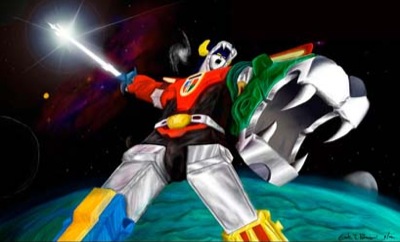 After the giant robots of Transformers banked over $300 million at the box office, it was only a matter of time till the other giant robot franchises followed suit. It could be the dawning of the golden age for the live action mecha! Yehaw!
From
Variety.com:
New Regency is looking to assemble its own giant robot movie.


The 20th Century Fox-based production entity is close to a deal with the Mark Gordon Co. to adapt "Voltron: Defender of the Universe" into a live-action film.
Gordon has been developing the pic, based on the popular 1980s Japanese animated TV series, comicbooks and toy line, with Justin Marks penning the script.
Should the deal close, project would be one of the company's more high-profile efforts since Robert Harper took over as chairman-CEO of Regency Filmed Entertainment earlier this year.
Interest in the property hit a high after "Transformers" turned into a box office juggernaut, raking in nearly $300 million to date.
New Regency, which hasn't had a major hit since "Mr. & Mrs. Smith" in 2005, sparked to the idea of a potential franchise.
Company's upcoming pics include "Alvin and the Chipmunks," the Doug Liman-directed "Jumper," the Alexandre Aja-helmed "Mirrors" and the Eddie Murphy starrer "Starship Dave."
Marks' take is described as a post-apocalyptic tale set in New York City and Mexico. Five ragtag survivors of an alien attack band together and end up piloting the five lion-shaped robots that combine and form the massive sword-wielding Voltron that helps battle Earth's invaders.