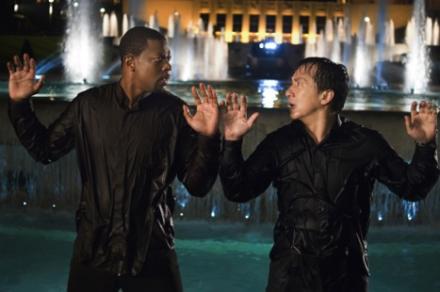 Rush Hour 3 fast talked its way into first with $50 million leaving Bourne Ultimatum with the all time August opening for at least another year. Stardust bombed in spite of good review, but at least it outdid the abysmal (2% on Rotten Tomatoes) Daddy Day Camp.

Welcome newcomers The Simpsons and Bourne to the top 9, forcing the Fan 4 and Die Hard off the list.

This week saw many a milestone. Transformers eclipsed that elusive $300 million mark, the 4th of the year to do so. Homer and co passed $150 million. Also, Chuck, Larry, and Jason Bourne managed to overcome the $100 million mark. That makes 17 blockbusters so far in '07 (I think blockbuster needs to be reassigned to $200 million, but thats just me).

Next week, The Invasion opens against Superbad and The Last Legion. Look for The Invasion to score the win. Pretty much, the Summer is drawing to a close, so this feature may have to hibernate until next year, but maybe there will be a winter edition if demand calls for it.

Overall, my predictions were not too bad (some A's B's and C's), though I was way off with Transformers and Knocked Up wasn't even on my radar. Also, I should have known that Ratatouille wouldn't top Cars, but that was my Pixar favoritism at play. I still think I did better than last year.

Current Rankings:

#9 The Bourne Ultimatum -
$132,343,000
#8 Knocked Up -
$146,530,640
#7 The Simpsons Movie -
$152,237,000
#6 Ratatouille -
$193,369,000
#5 Harry Potter and the Order of the Phoenix -
$272,000,000
#4 Transformers -
$302,919,000
#3 Pirates of the Caribbean: At World's End -
$307,455,811
#2 Shrek the Third -
$321,012,359
#1 Spider-Man 3 -
$336,279,383

My Predictions:
#9 Evan Almighty -
$170,000,000
(57.5%)*
#8 Fantastic Four: Rise of the Silver Surfer -
$175,000,000
(74.2%)*
#7 The Bourne Ultimatum -
$185,000,000
(71.9%)*
#6 Transformers -
$205,000,000
(144.4%)*
#5 Ratatouille -
$260,000,000
(74.2%)*
#4 Harry Potter and the Order of the Phoenix -
$275,000,000
(98.9%)*
#3 Shrek the Third -
$325,000,000
(98.5%)*
#2 Spider-Man 3 -
$380,000,000
(88.4%)*
#1 Pirates of the Caribbean: At World's End -
$395,000,000
(77.6%)*
*Percentages earned relative to my predictions