December is here and the years in review have begun. Welcome to retrospective
2
0
0
7
__________________
Epic Movie kicked things off in January with parodies of some of the recent big movies including X-Men: The Last Stand, and Superman Returns. I did not see this one, but I cannot really imagine a coherent plot involving Willy Wonka, Narnia, and Pirates of the Caribbean. Earning less than $40 million, it looks like we are safe from an Epic Movie 2.
Third in line of a series of direct to video features from Marvel comics was
The Invincible I
ron Man
. This film was an origin story of the Ferrite Man and featured battles with the Elementals and the Mandarin. I am not a real Iron Man aficionado, but this tale seemed to be a reasonable modernization of the Iron man story. Also, I really liked seeing Iron Man do battle in several different suits. He donned an underwater suit, a bulky medieval gray suit and of course the classic red and gold armor. This film did a good job whetting my appetite for next summers live action Iron Man film.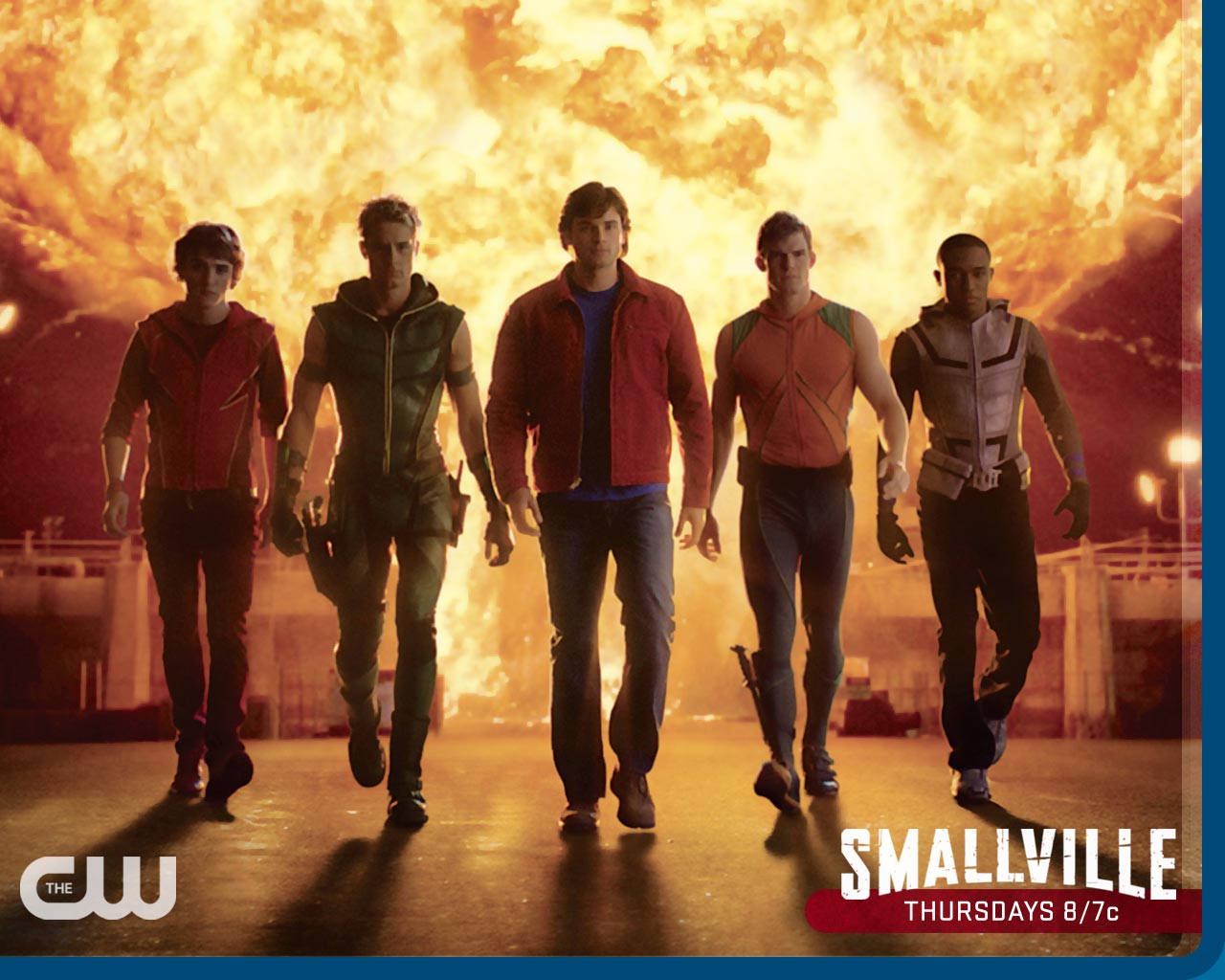 On Smallville, an arc featuring the Green Arrow culminated with an appearance of the Justice League. Impusle, Green Arrow, Aquaman, and Cyborg teamed up with Clark Kent to stop Lex Luthor's army of meteor freaks. The Martian Manhunter would also appear in Smallville this season making Smallville one hopping town.
Ghost Rider
busted out in February just like director Mark Steven Johnson's adaptation of Daredevil. The Rider did well for a February release opening with $45 million on the road to a $115 million total in spite of poor reviews.
In March, the stylistic adaptation of the Frank Miller graphic novel 300 broke all sorts of records and expectations. This little March release cruised past $200 million besting 2006's Superman Returns.
March also saw the return of "Turtle Power" with
TMNT
. This darker tale carried on the continuity set up in the live action Turtle films. Though it opened fairly strong, the turtles lacked legs, and the film just squeaked past $50 million. Still, with a modest budget of $34 million, "all shell" may break loose once again.
March also saw the Cartoon Network debut of
Hellboy: Blood and Iron
. Improving upon last year's
Hellboy: Sword of Storms
, Blood and Iron hoped to pave the way for even more Hellboy animated adventures. There was a ton of action in this film, and though I am not that familiar with Hellboy aside from his movies, I have enjoyed his adventures. I do not really understand how Hellboy can carry a franchise (the third animated film is underway, and another live action film will hit next year) while characters like the Flash, Green Lantern, and Daredevil struggle to stay in the limelight. Still, I look forward to the next outing which promises to introduce Lobster Johnson, a popular character from the comics whom I know nothing about.
Following up on Striperella, Stan Lee headed up a couple of half-assed animated films El Condor and Mosiac. These had good voice actors but shoddy animation. Oh Stan, how the mighty have fallen. Thanks for Spider-Man, but for noe, stick to your cameos. :)
To help build hype for Spider-Man 3, an extended version of Spidey 2 titled Spider-Man 2.1 was released in April. There were some nice scene extensions here including a more brutal train fight, more to the Doc Ock bank fight, and some character moments showing Harry and Pete's friendship and MJ's reluctance to her relationship with the future Man-Wolf. One of the funnier moment, JJJ pretending to be Spider-Man, can be seen
here
.
Spider-Man 3 Opened in May with an astonishing $151 million record breaking opening weekend. It went on to make nearly $337 million, good enough to be the year's #1. Read my thoughts
here
.
A pair of Extended DVDs graced the store shelves in June - Fantastic Four featuring H.E.R.B.I.E. the robot, and
Ghost Rider
. At least in the case of Ghost Rider, the extended version coincided with the original release, so it wasn't a complete double dip. As for the Fantastic Four, the DVD came with a free ticket to Rise of the Silver Surfer, making the double dip not too costly. I suppose I am in favor of these director's cuts to a degree. If studios force the directors to trim trim trim for the sake of more screenings per day. At least fans get to see what was intended. Even if the content isn't too meaty, it usually helps the movies flow and contains extra geeky references.
Fantastic Four: Rise of the Silver Surfer
opened pretty good for one of Marvel's "Midrange" of films. The draw of the Surfer helped the film to barely edge out the original's opening and finish with $132 million. This is an impressive feat considering the negative reviews that both films received. It looks like Fantastic Four 3 is coming in the form of another team up, as is a Silver Surfer solo outing.
In August, Marvel delivered its 4th DtV with
Doctor Strange: The Sorcerer Supreme
. This was another origin tale that ended just when the going got good. It seems a waste to do so much set-up for characters with no plans for follow-up projects. I have never been a huge fan of Doc Strange, but this was a pretty compelling story. But, like I said, it ends just as he becomes the hero we are all supposed to know and love, making me wonder, what was the point?
Also in August we were treated to the live action Underdog, which couldn't have been as bad as it looked... Could it? It managed $43 million, hopefully not enough for a sequel.
DC comics got the ball rolling in September with its first DtV release,
Superman: Doomsday
based on the Death of Superman story from the comics. While not perfect (what is?) this movie delivered the action and punches that Superman Returns lacked.
With Iron Man, Batman, Hulk, and Hellboy feature films, Justice League, Batman anime, and Young Avengers DtVs, a new Spider-Man animated series, and more Heroes, Smallville, and The Batman, 2008 may be a year of legend.