Update: Now with Trailer
Forget Next Avengers, details of Hulk Vs have arrived at
Marvel.com
. Here is the description.
HULK VS THOR – It's gods versus monsters in this epic 45 minute movie! Never have we explored the explosive power of the Hulk like we have in this new film, every major character from the Marvel Thor universe is thrust into battle with this Green Goliath as he brings a new Ragnarok down upon the realm of gods.
HULK VS WOLVERINE- This dark, violent, smash and slash story was first told in issue 181 of THE INCREDIBLE HULK and the rematches have continued to thrill comic fans ever since. Now Marvel and Lionsgate takes the best of those famous comic book battles and merges them into one heart pounding 33-minute story.
Over the past week, The INCREDIBLE HULK has been tearing a line across the Canadian wilderness, leaving a swathe of destruction in his wake. He has to be stopped, and there's only one man up to the job. He's the best at what he does, but what he does isn't very nice. He's WOLVERINE, an elite agent of Canada's top secret Department H, and he's been put on Hulk's trail with a single objective: stop the Green Goliath… at all costs. Hulk and Wolverine are about to enter the fiercest battle of their lives. And they have no idea that there are a few unpleasant surprises waiting for them on the other side.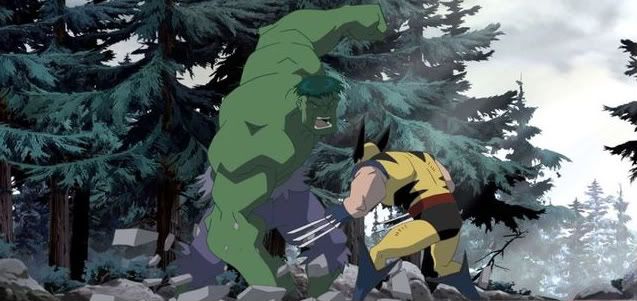 Finally, this could just be the Marvel DtV we have been waiting for. Something deserving of a movie treatment and something more than a pseudo TV series pilot. I just hope they don't skimp on the green blood.