If you like big budget superhero fair, then you may want to steer clear of
1
9
9
0
__________________
Before there was Spider-Man, Sam Raimi brought us Darkman. Staring Liam Neeson, the movie is about a dude who is attacked and left for dead by a ruthless mobster, after his girlfriend, an attorney runs afoul of a corrupt developer Liam is left with burns over most of his body. While hospitalized as a comatose John Doe, he is unwillingly subjected to a radical treatment that destroys the nerve endings connected to his skin, neutralizing his ability to sense physical pain but increasing his brain's emotional output to compensate. Half-crazed, Liam escapes the hospital and decides to get revenge on the criminals who took his life away, but now as a masked vigilante, known as Darkman. The movie is actually pretty good, especially for a lower budget ($16 million) attempt.

In 1990, Teenage Mutant Ninja Turtles hit the big screen with a surprisingly dark (though true to the source material) tone. The film cost $13.5 million and banked 10x that. Though slow at times, this movie is a step ahead of the sequels that followed (though TMNT aint bad).

Hoping to repeat the previous summer's Batmania (Dickmania?) Dick Tracy employed Danny Elfman to write a dark score to this visually interesting film. It also had an all star cast including Warren Beatty, Al Pacino, Dustin Hoffman, Dick Van Dyke, and Madonna. Not a bad movie, but Tracy is no Batman. The movie broke $100 million, but while Batman is now on film #6, Dick Tracy #2 never materialized.

Much like the failed Fantastic Four and Punisher attempts, Marvel tried to make a low budget Captain America movie. It was so bad / cheesy, it never made it to the silver screen. Thanks to youtube, its crappiness will not be forever forgotten.

The last of the Incredible Hulk TV specials aired in 1990 titled Death of the Incredible Hulk. This outing unsurprisingly featured Hulk dying.
Another Danny Elfman scored project was the one season wonder of the Flash. Following in the footsteps of the Dark Batman film, this series features a darker Flash. Later in the season, the tone lightened up a bit to allow for characters such as The Trickster portrayed by Mark Hamil, a role that may have won him the job of voicing The Joker in the Batman Animated Series.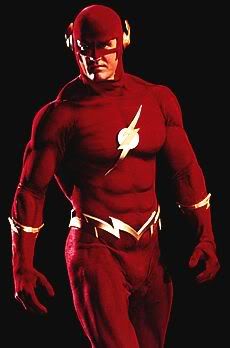 There you have it, the heroes made due with low budgets back in 1990.